This article is about the seemingly negligible distinctions between being empathic and being an empath. Seemingly negligible because the practical distinctions are huge! If you know you're Highly Sensitive, you might have been wondering: "am I an empath?". Well, this article will help you understand the differences.

As an HSP, you'll likely identify with being empathic. For various reasons, it can even be a preferable word to Highly Sensitive. Being empathic means that you are able to relate to how other people are feeling. So how is this different from being an empath?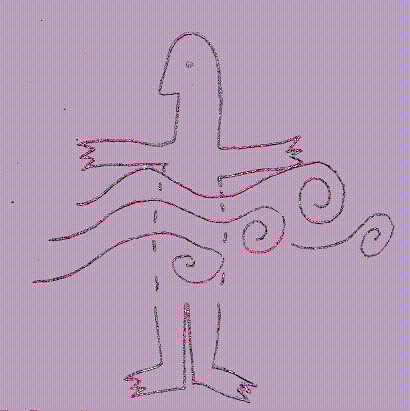 Empath is a specific kind of clairsentience. With that, we're moving from the world of psychology to the world of spiritual healing. An estimated 2-4% of the population is clairsentient (I suspect those numbers may be much lower, but that is a separate discussion) and about 15-20% of the population is HSP.
Many (not all! *) empaths identify with the HSP label, and those are the empaths I'll be addressing here. To that purpose, the empaths I'm addressing here can be seen as a very specific "subset" within the HSP category.
* many thanks to Peter Messerschmidt for fleshing out this issue with me !
So what is the difference?
First off, the distinction is not that black and white. There are people who are clearly an empath and an HSP (empathic), others who are clearly HSP (empathic) but not an empath, and there are people who are somewhere in the middle. Lines can get blurry. So the bigger question is, why does the difference matter?
 Why Does the Difference Between "Empathic" and "Empath" Matter?
The difference matters because empaths generally need specific training to learn how to work with their clairsentient ability without getting overwhelmed.
They experience a huge emotional overload because they are literally carrying other people's emotional burdens in their body. As a result, they experience overwhelming emotions that no amount of therapy can fix.
Labels matter because they make it easier to know where to get the support and understanding you need and also know who you are in relation to others. We're all a mix of various labels and categories, yet precisely because of that it's important to keep them separate when discussing them.
For someone who is HSP and also an empath, the two labels will of course blend together in practice, but discussing them in this way is not helpful because not all HSPs are empaths (in fact, most are not).
Hence, it's likely that you'll find some empaths in a group of Highly Sensitive People, but the general consensus will tend to not be in alignment with specific empath issues. Or, alternatively, the HSPs who are not empaths themselves may assume that you're using different words to describe what they already know. It's a little like talking about the ocean with someone who's only familiar with lakes and who believes lakes are all there is. You'll achieve a seeming consensus but, on deeper prodding, it won't really hold up.
The difference also matters because it can be uncomfortable to truly address the empath ability. Hence, it's tempting to gloss over the crucial distinctions between being an empath versus being Highly Sensitive 'only'. In other words, it's tempting to "tuck away" the empath ability into the increasingly accepted and discussed HSP label. Or to water down the word "empath" until it means the same as being a Highly Sensitive Person.
Here's why: many empaths, due to their upbringing, find it easier to accept that they are HSP than consider that they might be an empath too.
It's easier to accept that you're exceptionally good at reading faces, noticing body language, picking up on tone of voice, noticing subtle social cues and imaginatively putting yourself into others' shoes, than it is to accept that you have an actual and badly understood intuitive ability that functions in a way that
goes way beyond any of the commonly accepted ways of relating to others.
The funny thing about that is though that is usually takes actual empaths a very long time to accept that they are different. While, in the last few years, there has been a massive surge of people who are not empaths, using the word empath to describe themselves. Pfew, talk about confusion!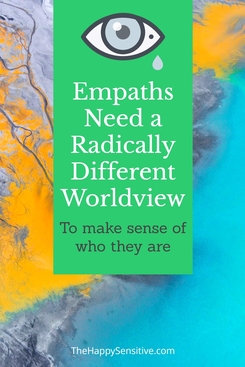 As mentioned earlier, with being Highly Sensitive, you are still navigating the psychological world model. You need to accept that you have a more sensitive nervous system, and that this has implications for how you lead your life, but you don't need to accept a radically different worldview. Once you move onto empath territory however, all that changes.
Some empaths are perfectly OK with that. Things finally click into place (yay!). Others struggle to fit what they are learning about being an empath into their religious, academic or other worldviews. Often times, it takes time to integrate these different worldviews into a new and personal all-encompassing model.
Empaths and Worldview
So how does your worldview need to radically change to accomodate being an empath?
There are a few things:
Energy is real and perceivable with your physical senses
Emotions and physical sensations are energy that can move from one person to another
Energy can be thrown at people, stick at you, blend with that of other people, and be given away
In psychological terms, this would all be "symbolic" at best. If you're an empath, however, you need to deal with the fact that this is real. With a capital R.
When you are obsessing about someone as an empath, it's not just "in your head", you likely have all kinds of subconscious energy exchanges going on with the person in question. When you feel deeply affected by someone as an empath, you're not just "empathizing" and "imagining what it's like to be that other person" you are probably actually literally picking up this other person's energy.
How is this different from mentally obsessing over someone? Here are some pointers:
For someone who is HSP 'only', a shift in attention, or talking through a situation can be enough to get "unstuck" from obsessing over someone. Sure, letting go can be tough, but psychological approaches tend to work quite well.
As an empath, however, no matter how hard you try to let go and talk it through and shift your perspective, something keeps nagging. Even when you know you've taken all the psychologically required steps to move on, you're still stuck. It's because you're not just thinking about someone, you've actually taken on the other person's energy somehow, and hence need to address this at the energetic level, not merely the psychological one. This is why empath training is important. It's specific, and goes way beyond psychological models for letting go.
Empaths and Energy
Just as HSPs are wired to respond to stimuli more intensely, more sensitively, empaths are wired to process other people's energy more intensely. HSP wiring is arguably biological and psychological. Empath wiring is energetic and psychological, affecting the body in numerous ways. Hence, when we're addressing the empath ability, we need to bring the "energy body" into the conversation.
Just as Highly Sensitive People have sensory processing sensitivity, you could say that empaths have a psychic energy processing sensitivity.
I've compiled a list below of situations that you might recognize as an untrained or, as of yet, unidentified empath. Please note that trained and experienced empaths won't necessarily relate to this list, but then they don't need this list in the first place! (If you're an experienced empath, please think back to your early indicators: how did you find out that you are an empath? Feel free to share in the comments).
Please also note that, if you do think you are an empath, chances are slim that the other HSPs that you know are empaths too. Statistically, empaths are simply more rare. (It can be tempting to "see empaths everywhere" when you're just realising you are one yourself).
Signs (not proof!) of being an empath
People tell you that they feel better after talking to you about their physical and/or emotional pains, but you tend to feel worse after such conversations.
You've experienced having aches and pains, odd physical symptoms, or intense emotions out of nowhere, only to find out later that someone you love is going through exactly that.
When you're in a room with many people, your emotions and/or the physical sensations in your body often change extremely from one moment to the next. You're worried that you may be crazy somehow. Yet, when you're by yourself, things tend to calm down.
You have trouble concentrating when other people are around, but you're able to concentrate just fine when you're by yourself.
Some people get extremely uncomfortable around you, because they feel that you see right through them. You might have noticed that people avoid you when they want to hide what they are going through somehow.
You know a lot about other people, without knowing how. You used to think that everyone knew this much about everyone, but are coming to the realization that this is -strangely- not the case.
You feel extremely responsible for the well-being of the people around you. People have told you to let go, or not take things so seriously, but you just can't.
When you're around certain people, you suddenly find yourself feeling, thinking and/or acting out of character. Without those people there, you revert back to your usual self. Depending on how you feel influenced, this can either be interesting and liberating, or a little scary and worrisome.
You have trouble knowing what you want and need. To figure that out, you usually need to be by yourself for a stretch of time, and even then it may be much easier to voice what others want from you than to say what you want for yourself.
You struggle with setting boundaries because the disappointment, anger and grief (and other emotions) of other people impacts you deeply. It seems that, no matter what you do, it's always lose-lose for you. Either you stand up for yourself and get overwhelmed by the negative reactions of others, or you do what they want and don't feel good about yourself.
Your body often feels icky, murky, dark and unpleasant, even if you have no childhood trauma or medical condition to attribute those feelings to. For that reason, you like to do things which take your attention away from being physically aware of how your body feels.
You can feel and act drunk, simply by being around other drunk people, without having had a drop of alcohol yourself.
You notice that you're more directly impacted by other people's energy when looking someone directly in the eye, being in close proximity to someone or having a strong personal bond with someone (that can influence you over long distances).
People tend to tell you things that "they've never told anyone before" even if they hardly know you.
Crowds tend to be overwhelming and draining for you, unless they're an exceptionally feel-good bunch.
Please note that the indicators above are meant to be points of recognition for untrained empaths, but by no means do you need to nod your head at all of them if you actually are an empath. Nor is this a self-test. Even if you recognize many of the points above, you may still not be an empath. That's because there are a few different ways you can be sensitive to energy and other people's moods. You can read more about that here.
If you recognize a lot of the points above, be open to the possibility that you might be an empath, and look into that further before drawing any definite conclusions. I have a special audio course here that walks you through the steps to do that.
Also please note that these indicators do not necessarily define the empath trait. Hence, if you meet people who tell you that being an empath is awful, crazy-making, painful etc etc, chances are that they are simply untrained empaths who lack the awareness to effectively work with this ability. You don't need to suffer as an empath but you do need to learn how to work with your empath ability. This takes work and time, but is very worth it.
When you commit to the training necessary to become a proficient empath, you'll be able to handle crowds and other previously overwhelming situations, simply because the way in which you internally respond to all that energy has been rewired.
Q&A:
Does Elaine Aron's HSP-test test for being an empath?
No, the HSP test measures general HSP attributes, which are often shared by empaths but are not enough to figure out if you are an empath or not. I've created an audio course for you though if you want to figure out on your own if you're an empath or not. You can find it here.
Does becoming a trained empath make me an HSP?
No. Empath abilities are distinct clairsentient abilities. The clairsentience itself doesn't go away but you can learn to stop the energy exchanges. This makes a massive difference. Imagining it like holding a 20 pound weight above your head, or just lightly resting your hand on it while it's on the floor. You're probably on this page (and site) because you know you are HSP. You may be an empath too. Either way, being highly sensitive is not "a different form" of being an empath. They are quite distinct things, yet may overlap in the sense that many empaths are both HSP and empath.
Can an empath lack empathy?
Yes. Though typically, people lacking empathy who seem like empaths, are actually psychic narcissists. I have come across a few empaths who are empaths, yet lack empathy though.
Usually this is because while they absorb negative emotions from other people, they have no understanding of what those emotions are or mean. For example, grief doesn't register as "grief" to them, but just as random ick. So while they are very sensitive to emotional energy, their EQ is too low to understand it as a meaningful emotion. In other words: they don't understand "what it all means" and they just want "that icky energy to go away".
They don't feel that someone has a lot of grief. They feel that someone has a lot of heavy ick.
As a result, they tend to be much less understanding and compassionate than you'd expect! So yes, empaths can actually have a lack of empathy, though this is quite exceptional.
Are empaths born or made?
Empaths are born in the sense that their clairsentience is a natural intuitive gift. However, they are made in the sense that what makes them an empath is the way they have learned to work with that clairsentience.
Isn't all this just about active mirror neurons?
Mirror neurons help explain some parts of the empathic spectrum. However, mirror neurons do not explain what life is like for an empath. Empaths do not just mirror emotions or understand them by proxy, they understand them energetically by feeling and absorbing them. I don't mean that in a symbolic way.
What is the difference between an empath and a people pleaser?
All kinds of people can become people pleasers, for many different reasons. You can become a people pleaser because deep down you feel that what other people need is more important than what you need. You can also become a people pleaser when you desperately want the whole world to like you (this is a covert narcissism kind of people pleasing).
Empaths become people pleasers when they try to manage tricky social situations or toxic people by trying to fix everything for everyone. This is a way to try to shift the general vibe back to positive emotions all round, so the empath feels better.
Is being an empath a personality disorder?
No. In fact, true empaths tend to be very even-keeled despite the mood swings that come from their empath sponging. Often, they manage to keep a lid on all the overwhelming symptoms for many many years. They end up being the rock and advisor for those around them, despite their own overwhelm, keeping their struggles to themselves. This takes a great amount of inner strength and balance to manage.
Inevitably, empaths will eventually crash in one way or the other. When they do, this can in rare cases look like a psychotic break but more often it looks like depression, anxiety or fatigue.
When people with personality disorders are sensitive to energy, they are typically on the other end of the empathy and energy spectrum. Yes, they feel affected by other people's moods, but it's for very different reasons. Read more here.
Why do empaths attract narcissists?
Untrained empaths are wired to anticipate and take responsibility for other people's needs and feelings. Narcissists love this. It's like having their personal servant who is so well trained to support and provide, that they don't even have to ask for what they want!
As a result, empaths tend to "get along" with narcissists very well, at great cost to themselves.
Can someone be both a narcissist and an empath?
No, but it can seem that way.
Narcissistic people with strongly developed psychic abilities can display the same kind of self-absorbed and manipulative behaviour on the energy planes, as they do psychologically. When they do, you can be sure that they do not absorb other people's pain or emotional burdens… not unless the payoff for that is many times bigger than what it's costing them!
These psychic narcissists will walk into your aura, the same way they will walk into your room without knocking. They will attack your weaknesses psychically, as much as psychologically.
They will take what they want without asking and they will complain about how sensitive they are and how everyone else is such a burden to them. Or conversely, they will boast about how much of a healer they are and will use that as a "reason" to do unsollicited healings on people. It's like a narcissistic parent who will walk into your room and go through all your things to "clean it up" after you expressly asked them to please not go through your things.
Tu casa is their casa. They feel entitled to everything you have and are. They will do whatever they believe they need to do but they are either blind to their own true motivations, or they lie on purpose.
These are not empaths, but they do operate on the same energy planes that empaths do, just in an opposite way. (explained more here) While they manipulate and exploit others, they do actually understand other people better than most.
So you might feel like this person both "gets you" deeply, and is also – after a while – the biggest asshole you know. That's because they use their psychic abilities to gather intel about how to influence others. They use that both to charm, and to manipulate others.
It's a strange thing to encounter in someone because while it seems that they understand you, they do not actually care about you at all (not beyond how you are useful to them anyway).
Why it's Confusing to Be an Empath
Because dealing with empath abilities requires a radical world-view turn-around, and because there is little general understanding of how this ability works, many empaths struggle without any tools, the wrong tools, or insufficient tools to make sense of and handle their abilities.
In addition, many empaths who consider themselves to be experienced and trained, are not aware of how much of what they are feeling is in fact other people's stuff. Empath "sponging" (absorbing other people's energies) happens for a bunch of complex reasons. Yet, in a way, it's a confusion around what is what. This is not surprising. We all get taught that whatever we feel is necessarily our own stuff. If you feel sadness, then you're sad, right? Yet, as an empath, feeling sadness does not necessarily mean being sad. Rather, you could be feeling the sadness of someone else.
Even if you do have the awareness that certain things you are feeling are not your own, empath sponging runs deep, and chances are that you are still confused about what is and isn't yours on deeper levels of your being. Our energy body consists of many layers, and sorting out what is what is an ever deepening process.
It's not just what you're picking up from others right now that plays a role, it's also other people's feelings and opinions that you adopted in the past that are still impacting you now. So much so that you may be utterly convinced that YOU want something when, in fact, this was a desire passed onto you by someone else, potentially many years ago.
What is confusing about the empath ability is that other people's energies -mostly- feel exactly like your own emotions and physical sensations. There is no dramatic violin music to indicate that someone else's energy is approaching. Hence, as empaths we can easily "embed" other people's energy into our own energy body through taking ownership of it:
empath: "I feel sadness. Wow, it's a lot. I didn't realize I was that sad! Hmm, perhaps it's because of what happened to me last week. Ah, that must be it! Wow, I'm so sad right now!"
And voilà, you've now securely embedded the sadness into your own energy field, without actually knowing whether it was yours in the first place.
(Please note that sufficient training is needed to avoid using this principle as a cop-out for dealing with your own emotions. To go around saying "oh, this is all not my stuff anyway" puts you into the narcissist camp of "blaming everyone else" for everything. There are no clear "rational rules" about when something is or isn't your energy, it's all about practicing very specific mind-body techniques that will allow you to figure this out in the moment each and every time. This is not something I can teach in a blog post but, for more info, please see this page about my From Suffering Sponge to Sensitive Savant – Empath Training)

The Impact of Beliefs on Empath Sponging
There are a few different belief factors that impact empath sponging.
First off, in the western world there is an assumption (not shared by all societies on earth b.t.w.) that "everything you feel is your own energy". Our world-view is about seeing people as individual "containers" that don't really exchange energy with each other, except perhaps through body heat. Hence the "logical" thing to do is to assume that you are in charge of everything you're feeling.
Empaths (like all Highly Sensitive People) have a strong tendency towards self-reflection. Hence, once those "it's mine" assumptions are in place, things can go from bad to worse once you start to come up with reasons why you are feeling a certain way. Before you know it, you've constructed a whole action plan based on an emotion that perhaps wasn't yours to deal with in the first place.
If you're a woman, then you're probably used to taking responsibility for "negative things". If you're successful, you'll likely say something like: "well, it wasn't that hard and I got help" and if you're unsuccessful, you'll blame it all on your own insufficiencies. (of course, this could apply to men reading this too, it's just that, gender-wise, women are more prone to thinking this way). This way of thinking can be a great stimulus to growth and learning (it's not all bad!) Yet, what this also means is that, as a woman and empath, when you feel something difficult or heavy (emotional or physical) your tendency is likely to first assume that it must be your problem to fix somehow.
On top of everything else, empaths tend to have a belief system that is heavily focused upon helping others at their own expense. Please note that this is not a fixed empath trait (it can be changed little by little through healing work) yet it does largely contribute to the sense of burden many empaths experience: whatever you believe, directs the subconscious energy exchanges with the people around you. Deeply convinced it's your job to make everyone feel better? Voilà, your wish is granted. Just don't ask how it will make you feel!
Hence, there are various factors that cause empaths to simply assume that what they are feeling is directly about them somehow. Then, through self-reflection, it's always possible to find a reason for those feelings. Hence, while any particular emotion or sensation may be your own energy, it also may not. Yet, simply by assuming that it must be your stuff somehow, you are actually helping other people's energy to 'stick' to you, and in this way burden you.
Trained versus Untrained Empaths
To recap, being an untrained empath means having the gift of clairsentience + a whole bunch of inner beliefs and self-care habits that mistakenly stimulate you to take on the energy of others (and give away your own energy too) in an attempt to "help" people.
A trained empath on the other hand has the skills and awareness to take an ever increasing neutral stance with regards to other people's energy. This means that a trained empath can still feel everything, but there is a choice as to how much is let in and for how long.
For example, a trained empath may be well aware that they are experiencing someone else's sadness, yet decide to feel the energy for a while in order to help the other person figure out what the sadness is about. This can be helpful in (consensual!) healing work. However, it should not be an everyday stance to take with just anyone. Hence, a trained empath is also able to quickly identify when they are picking up on other people's energy and let it go without giving in to any need to explore that energy or do anything to help. Obviously, it takes time and practice to get to this way of interacting. Yet, it's very possible.
Empaths and Self-Esteem
For all the reasons mentioned above: taking too much responsibility, embedding other people's energy into your own energy field, and not quite knowing how all this works, empaths often struggle with low self-esteem. Put simply, self-esteem requires feeling good about yourself, meaning: feeling good in your own skin.Yet, untrained empaths will have accumulated piles and piles of others people's energy and embedded it in their own energy field. This causes a lot of discomfort and can even cause physical pain.
It's hard to feel good about yourself when your body doesn't feel great, "your" (or so you think!) emotions are all over the place and you don't have a clue what is going on or what to do about it. Hence, at a certain point, it's easy for empaths to spiral into increasing self-deprecation. Helping other people, then becomes the only way (or so it seems) to feel worthy at all, even though, ultimately, all this focusing on others only makes the underlying problems bigger.
So let's move on to the topic of getting help.
Clairsentience and the Other Clairs
Clairsentience is only one of the clairs out there, yet it's a very specific one. While any one empath may or may not have other clair abilities too (e.g. telepathy, clairvoyance, clairaudience, clair-knowing) it's important to realize that ways of dealing with those other clairs don't necessarily do much to help deal with empath abilties.
Hence, for those empaths interested in attending spiritual workshops, it's important to get a sense of the specific "clairs" that the teacher will be working with. As an empath, you need tools that help you with "feeling". This is very different from the seeing ability that clairvoyance is all about. Yet, for whatever reason, clairvoyance is a lot more "popular" and common. Thus, empaths seeking spiritual training might easily find themselves in a workshop or course with someone who teaches from the perspective of clairvoyance.
To give you an idea, the difference between clairvoyance and clairsentience is like the difference between seeing other people's emotional and physical rollercoasters (clairvoyance) versus actually being on those rollercoasters with people (clairsentience/empath). Hence, people with the gift of clairvoyance will not be able to really understand your struggle around being so immersed and enmeshed with other people's stuff. In addition, any energy tools taught will be taught from the "visual" perspective, when what you need as an empath are tools that appeal to your sense of feeling.
Empaths, Fear and Shielding
Sadly, the topic of being an empath is often clouded in fear. When you start googling, you'll find oodles of pages dedicated to "shielding" yourself from the negativity of others. I have more to say on the problems with that here. Yet, perhaps most importantly, I don't think shielding has much of an impact in the bigger scheme of things.
The thing is, as empaths we attract other people's painful energy because we feel on some deep subconscious level that we "should". We are a lot more powerful than we think.
Over time, we developed numerous strategies by which to use our sensing ability to keep us safe or do what we thought was right. Unfortunately, nobody told us how to "uninstall" those inner programmes once they lost their functionality. As a result, a lot of very old and outdated emotional and mental inner programmes, that we have completely forgotten about over time, are still running the show (a.k.a. our life).
Hence, when we focus exclusively on techniques like shielding, we are in effect fighting ourself. That is (belief- and goal-wise) one part of us is trying to fight another part of us: one part of us is actively attracting and taking responsibility for other people's energy, while another part of us is trying to get rid of all that.
As a result, the shielding route increases inner conflict. It may be effective as a temporary band-aid, but it's definitely not a "cure" for energy overwhelm and energy drain.
Update: over the past years I've noticed how more and more people who are not empaths, but who are actually very psychically invasive, learn (and teach!) shielding to "protect" themselves. This is very counter-productive, and also quite creepy! It's like giving burglars a protective suit so they can jump through other people's windows without pain. This is yet another reason to be wary of shielding: it's often used and taught by people who really should learn to butt out of other people's (energy) spaces but who are way too caught up in all the mysticism and spirituality to notice what they are actually doing. * rant over *
Dit bericht bekijken op Instagram
The Way Forward
It's much more effective to observe what dominating beliefs and emotions inside of us surface and play a role in the empath dynamics we experience. When you're willing to do the inner healing work, you will gain control over both your inner programming and what you allow to happen to your own energy.
By slowly making inner changes, you can stop battling with the outside world. Instead, you'll discover how the world functions as a reflection, mirroring back to you something important that you believe about yourself/the world and/or a significant past experience that hasn't been emotionally processed yet. It's not an easy path, but it's a fruitful one.
To begin with, start noticing ways in which you feel you "should" be around people who have a negative impact on you. That's the first level of inner reprogramming: if you uncover resistance to setting healthy boundaries with negative people in your life, then you can try to "shield" all you want, but the real issue is why do you believe that you need to let them into your space in the first place?
So, if for example, instead of closing your office door so you can get some work done, you feel guilty about telling people no, keep the door open and then try to "shield" against all the disruption… what are you really doing?
While subtle energy is real, as an empath, you need to practice self care on multiple levels. Your life strategies will need to include subtle energy know-how as well as practical assertiveness. This is not as easy as it sounds though when your intuitive gift is wrapped up in all kinds of deep feelings of obligation.
Often, beliefs about all our obligations have deep roots in childhood and beyond. They can usually be linked to being raised by a narcissistic parent, or by having a chronically ill parent or some other situation that put you into the care-taker role. Perhaps there is no clear situational link, and you have simply always felt responsible for the well-being of others somehow.
Either way, to stop empathic sponging and suffering requires a role re-evaluation. Who are you and what do you think your purpose is? And how is that working out for you?
Many empaths and maybe-I'm-an-empaths find it really clarifying to talk with me about this. I offer Clarity Calls as a first step. These are designed to deliver… clarity :) Clarity Calls stand on their own. They are not sales pitches. They help you to stop spinning in your head about what kind of sensitive person you are, what being an empath means for your life, and what is real and what isn't. These conversations often start with "this will probably sound crazy"… to which I typically reply with "not crazy at all".
For real and lasting change, I have a programme for empaths called From Suffering Sponge to Sensitive Savant. It teaches you all the essential skills that you need to go from overwhelmed empath, to feeling free and clear.
Empath Healing and What it Takes
Any dismantling of old patterns and roles will bring up inner resistance. Yet, the slow dismantling of old patterns is what needs to happen in order to change from a suffering empath to a happy one.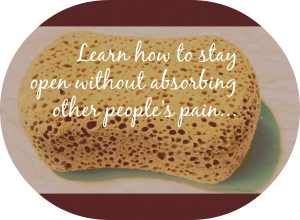 Empath healing work is complex. If you don't know exactly what to do or how to it, it can take a ridiculously long time (a life time). Time better spent on more fun things!
If you're fed up with taking on the suffering of the world and you want to learn how to stop sponging (without shielding), BE you and FEEL like you then take a look at my From Suffering Sponge to Sensitive Sanvant Empath course.
It teaches you everything you need to know to take control of your abilities so that you stop getting weighed down by the pain of others, stop censuring yourself and can let other people have their feelings without it bugging you.

Empaths spend a lot of time going it alone. Very few people understand what it's like and even if they do, most teachers offer solutions that result in "cleansing" your energy for the rest of your life. That's not necessary! If you like to do deep and thorough work, we can actually get rid of your empath sponging alltogether.
That means that you can still sense where other people are at – but the intensity difference is huge. It's like living inside a disco (full volume) and then moving out of the disco and hearing a faint droning that is very easy to tune out and forget about.