The term "Highly Sensitive Person" or "HSP" tends to be confusing to people who are unfamiliar with the concept.
Usually when people hear about someone being very sensitive, they will associate that with having to walk on eggshells around them. This kind of sensitivity (to criticism, to not getting one's own way, of expecting others to guess and meet their needs constantly or just plain being irritable) has little to do with being HSP. The "difficult person" kind of sensitivity leans more towards narcissism than anything else.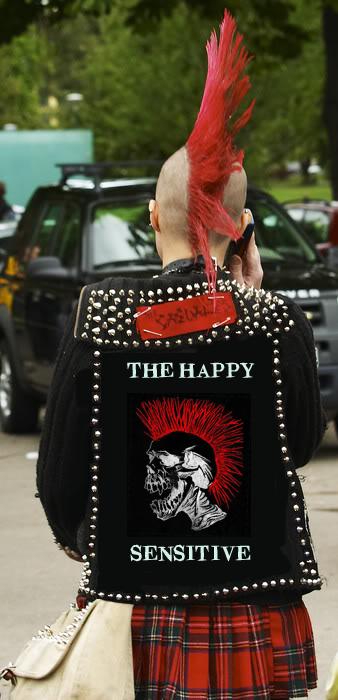 Being Sensitive versus Being Overly Sensitive
Highly Sensitive People will tend to be very empathic, taking others' needs and views into consideration. HSPs are attuned to the needs of the group as a whole.
For most HSPs expressing personal needs is extremely difficult,  especially when own needs conflict with the needs and desires of others. Conversely, the "difficult person" kind of sensitive typically does not have this problem. They will be rather good at getting people to pay attention to their needs.
To explain being HSP as "being sensitive" is thus often more confusing than clarifying for others. "Empathic" then may be a better word for a typical elevator pitch.
How to Spot the Difference
Experience-wise there is a huge difference between talking to a HSP, versus talking to someone who is overly sensitive because they are unusually self-centered and demanding.
HSPs tend to intuitively know when you lose interest in a topic, when it's time for them to leave and also whether now is a good time to talk or not.
Difficult 'sensitive' people are pretty oblivious to all of these things. Their sensitivity is all about them. If they do notice something concerning your mood, then they tend to use it to manipulate you.
HSPs on the other hand are generally pleasant team-workers who respect the needs and ideas of others. If they cause a fuss, it's usually because they think something that is important for the group is being overlooked.
(Please note that I am oversimplifying here. This article is merely intended to offer some helpful pointers, not provide a full nor complete description)
Complicated Overlap
To complicate matters further, these two kinds of sensitivity are not mutually exclusive. There are HSPs with narcissistic personality disorder, or with clinical depression or bipolar disorder or other issues that make them tough to be around for others. In those cases, seeking help in dealing with being HSP comes second in my opinion and the big psychological issues need to be tackled first.
I'm guessing that this is why as an HSP you may feel an affinity for some people who seem "just like you" yet are also incredibly draining to be around. Yes, perhaps they are HSP and yes perhaps, due to various reasons they've also developed incredibly draining psychological defense mechanisms that make them unpleasant to be around. Perhaps their issues can be resolved with the right therapy, perhaps they can't.
Sensitivity versus Entitlement
One thing is for sure though, the moment someone starts to talk about how sensitive they are and how this entitles them to all kinds of special treatment and how other people are so insensitive etc. etc… alarm bells should go off in your head. Perhaps this person is HSP and merely having a bad day. If bad days like this are frequent though, then it's likely that something else is going on and that being HSP or not is the least of their real challenges.
(Note: there is a big difference between practicing good self-care versus expecting others to constantly go out of their way for you. When you are focused on self-care you look for ways to take care of yourself. Most of the time, this involves very little to no action from others. Adequate self-care is necessary for HSPs.  Demanding special treatment should be the exception).
Chances are though that this is what most people think about when you tell them you're highly sensitive: some toxic, difficult person they know who is easily hurt and offended without caring much about others. So unless they've heard of the concept of HSP, you might want to choose a different way to explain. You'll also want to avoid assuming that people who claim to be sensitive are necessarily HSP. It can be confusing, even for HSPs!