We've got a lot of strange ideas about emotions in the Western world. First of all, we are taught to claim everything we feel as "ours".
When we go shopping, we carry a bag and pick up a can of soup (or something else) and push a shopping cart with groceries in front of us. And we never claim to be any of these things. But when we enter a room with lots of people, and we suddenly are happy/sad/angry/confused even if we were something else before we entered, then we still believe to be these feelings and tend to not think twice about it.
Yet, isn't it conceivable that we actually have and carry happiness/ sadness/ anger/ confusion as easily as we do soup? Just because I carry a can of soup, doesn't make me a can of soup, does it? So how come it's all different when it comes to emotions?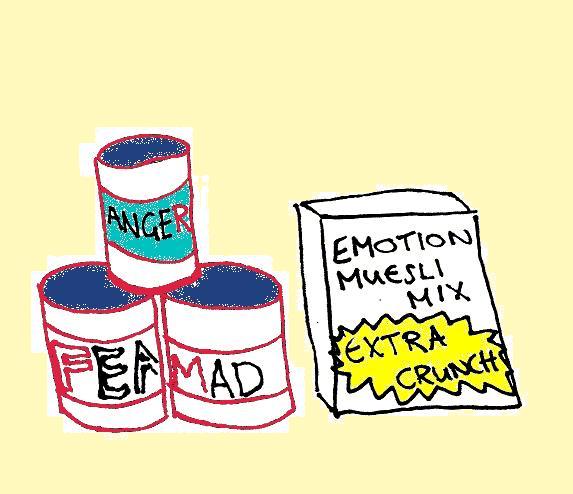 The obvious difference would be that emotions are on the inside while cans of soup are on the outside (and have croutons). But is that true? (Some have meatballs.) We show emotion in our faces, posture, movement, actions…we just don't lug it around in grocery bags. But I'm pretty sure we can give emotions to others all the same.
(Ever see a person who seemed to push a huge cart of depression-soup in front of them? Or who was loaded with grief?)
The point is if you hold the culturally sane perspective that people are their emotions, then that leaves very few possibilities for people to decide what to do with those emotions. Chances are, if you feel down you'll conceive of yourself as a person who simply is down. It becomes a part of who you believe you are.
If you can see any emotion as a can of soup, you've got lots of choices. You could open the can and drink the soup, cook the soup, give it away, put it in a cupboard, read the label, take it back to the store. There is no need to say: "I am tomato soup". You might seem to be, for a while. For a while, all you might eat is tomato soup. And then one day, you eat something else, and it tastes good. For most people that would not constitute an identity crisis. It's just soup, after all.
Now that you're at the cashier's and about ready to leave the supermarket, here's that little shelf of stuff just before the check-out register. In this case, magazines! Read more on this topic, or take a look at the empath course… so that you can return all that soup to the rightful owner, instead of lugging it around in your own cart. You can also saunter on and continue down below of course!