Empaths are the sensitives among the sensitives. Feeling other's emotions so intensely that they assume these feelings are their own, empaths tend to struggle more with overwhelm than other HSP's.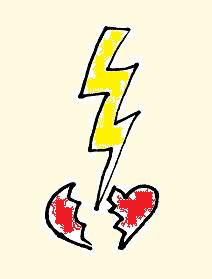 At one point in your life, your heart got broken. You "learned" that you didn't deserve to be loved. Life showed up in a certain way, and the only logical thing for you to conclude at the time was that you must not deserve the love you craved…why else would it be denied to you?
From an adult perspective, you (hopefully) know that not receiving love does not mean that you don't deserve it. Not everyone is capable of giving love. It's like concluding that you're unworthy of being held, when you're surrounded by birds. They don't have arms to hold you with, it has nothing to do with you.
Regardless, once the belief is formed, it becomes a subconscious pattern. You start expecting that there is no love to be had for you, and you start doing your best to "prove" being worthy, in the hope of finally being awarded with the love you crave.
In addition, the only way to feel any love at all, is when you are giving love. When you are loving someone else, you get to experience that love a little bit for yourself. In that moment of giving, you feel the love flowing through your system, and it feels good! so you want to give more, and more, and more…
This sets up a pattern of co-dependence, of becoming a giver only, and of attracting takers (aka narcissistic people) into your life. You get into a pattern of giving and giving endlessly, depleting yourself more and panicking that you are not proving hard enough how worthy of love you are. No matter how much you do though, you never feel worthy. This is because whatever you do or don't achieve, it doesn't change the underlying assumptions. Those assumptions of unworthiness need to be cleared out on a deep subconscious level in order for your self-image to be healed. It's like a computer programme that needs to be deleted, not played. No matter how good you get at playing pacman, the programme itself isn't going to delete itself, not even if you make it to the final level. Actually, you don't need to play the programme at all in order to delete it, you just need to log in to the control panel on your desktop and remove the programme.
Why does all this matter? Because as a heart-broken empath, you will tend to devalue yourself, and slave away to prove your worth and "earn" love. It all feels very "obvious" to act this way, yet it's only when you understand the underlying mechanism that you can see that the solution is not figuring out how to "give more and better". Rather, the solution is to shift the pattern of 100% giving and 0% taking, to something more balanced by
– learning how to take more and better care of yourself and do less care-taking of others
– teaming up with people who are givers too
– learning to set boundaries with takers
– learning how to delete the unworthiness programme one step at a time
As much sense as this may make rationally, this whole story likely feels "off" to you at least a little right now. This is because as empaths, initially, we tend to take our emotions at face value. We feel it, so it must be true, right?
In the case of unworthiness, this is a risky scenario, that can take you down a road of being seriously abused. You need to rationally know that even though you may feel unworthy, that is not the truth of who you are.
Healing the broken empath heart requires acknowledging what you feel, without necessarily taking it all at face value. Yes, your emotions are real, but it's important to be mindful of their interpretation. Feeling unworthy tends to be intepreted as: "I feel unworthy, hence I must be unworthy". Yet, that assumption is unwarranted. More accurate would be to say: "I feel unworthy, so I must have come to believe that I am unworthy. Yet I know that this is not the ultimate truth about me, and so there must be a way to change this experience of myself". See the subtle yet vital difference?
You still feel the same, but change what you take that to mean. Doing so opens up empowering possibilities. It allows you to reach out for help and support and then, when you need to commit to more self-care, yet feel unworthy of it, you know how to acknowledge the unworthiness without buying into it. This is crucial, because without this subtle inner shift, you'll stay stuck in victim mode, always running after everyone else, but never getting the support for yourself that you need.
You can't heal unworthiness by reading a blogpost, but you can get a sense of the mechanism of it that keeps you stuck, and the steps required to heal. Knowing this is super important, because it allows you to evaluate your triggers accurately. When you set out to heal your sense of unworthiness, you will still feel unworthy, and hence will be tempted to give up and give in. This vicious cycle is what often keeps empaths stuck in a wounded healer pattern: able to give to others, but not able to receive that which you need to heal yourself.
You cannot heal yourself through giving. You can only heal through allowing yourself to receive what you need in order to heal.
Healing unworthiness happens in steps, in layers. You take action to take care of yourself, you set a boundary with a needy person, you acknowledge the sense of "not deserving support" that gets triggered, and you learn how to let go of that. Then you set another boundary, do another nice thing for yourself, more unworthiness surfaces etc.
The point is, you can start anywhere with breaking the vicious cycle, as long as you understand not to let your feelings of unworthiness sabotage your steps towards better self-care.
Ultimately, a broken heart that isn't tended to, will deplete you. You'll keep running around until you're empty and burned out, and even then – when you're exhausted and spent – you won't heal, because you still don't know how to receive the love you crave.
guilt
, shame and unworthiness, you'll more easily be doing others a disservice. You'll start doing other people's spiritual and emotional homework for them, you'll start meddling, you'll start
overextending yourself
, all in an effort to give more. Yet in doing that, you're taking away other people's opportunities for growth. You're filling in the blanks for them, stopping them from having empowering learning experiences.
Please stop. Please pause. Please take a moment to acknowledge the logic of this: following the commandments that come forth from unworthiness, lead only to further entrenching the unworthiness. It's a way to dig your heels in, not a way to find your way out.
Unworthiness is an experience, not a god-given truth about the nature of your being. It's a programme you've got running. It's powerful, but it's not who you are. Don't let it take over your whole system. Don't let it dictate your choices and abilities.