As sensitive people, we tend to be pretty good at intuiting what others need and what is bothering them. This makes us the ideal person to turn to when things are tough and/or confusing. Since we often enjoy having deep conversations (and might even be relieved that we don't have to wade through an onslaught of superficial topics) we might find ourselves gathering a small crowd of people who turn to us when they're stuck.
Deep conversations highlight some of our favorite skills: subtle communication and connection, the pondering of big complex topics and tuning in to our intuition to provide the best possible support. Yet, as enjoyable as it is, as flattering as it is, as good and giving as we are about it and as much as we enjoy having deep conversations, we can still get to a point where we feel upset about seemingly being everybody's therapist. The upset needs to be honoured, it is there for a reason.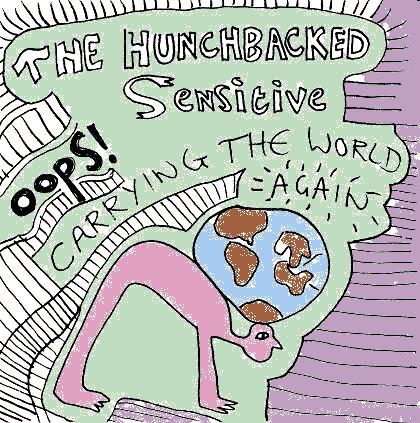 We might have a long list of people who know where to find us when they are in need, but are suspiciously absent when we could use their help or could do with some uplifting company ourselves. The upset we feel about all this is telling us that we are ignoring our boundaries, we are ignoring our needs (yep, we have needs!).
So, what do you do? Here are eight tips to get you started:
Tip 1: Listen to your Needs
The first thing to do, is to tune in to the feeling of upset (or perhaps it's annoyance, wariness, trepidation, fear or frustration). Don't wave away the upset ( and don't chide yourself for being uncaring or cold). This is your body speaking and it's telling you: "you have needs!" Ask yourself what YOU need now, and act upon it.
Listen to the audio below for more info and for a guided process to help you hear your needs:

Tip 2: Ask yourself: am I their friend or am I their therapist?
If your relationship feels more like chronic caretaking than a mutual heart-to-heart, then you're definitely the therapist. As the therapist, what are your office hours? Who do you feel called to help? Who would you rather refer to someone else?
Tip 3: Set professional-style boundaries
Consider: would a heartsurgeon invite his patients to his anniversary? Would a psychologist invite her clients to her housewarming party?  (I hope not!)
Tip 4: You're not responsible for making everything o.k.
As sensitive people we can get stuck believing that we need to make everything ok, that we need to make ourself the answer to another's needs. It's because we feel others' needs so acutely that we tend to put them first in our reasoning, but this places us in the victim position. Instead:  start asking "what do I like to offer?" and then see who is a match for that.
5. Communicate
Setting boundaries means letting people know about them. You can't expect someone to read your mind. Similarly, you can't expect someone to agree with you. If your boundaries are unacceptable to someone else, then they are free to go and get their needs met elsewhere.
6. Choose your own side
Being sensitive means easily identifying with someone else's position, often at the cost of honouring your own.
If you feel guilty and obligated or extremely sorry for the other person, then you are being overly influenced by their perspective. To reconnect to your own perspective, take some time away from the other person to regroup.
7 Stay Positive
When people explicitly or implicitly ask too much from you, let them know that you can't honour their request, and also let them know what you CAN do. For example: "Look, I don't have time right now, but how about meeting up next week for lunch?" By thinking about what you can offer someone, you make setting a boundary much easier. You will also get a much better sense of how serious the request that you get is. If someone really wants your support, then they'll be happy to meet you halfway.
8 Be realistic
Who are the people you can really help? Does someone really want to be helped or have they settled into a position of demanding endless amounts of attention because, well, "poor them"? Professional therapists too need to say no to some very needy people when those people resist any kind of change. Practice being realistic about who you can and want to help.
You might have a sneaky belief that someone's behaviour is only temporary. Maybe it is, but remember, people who are chronically needy are…chronically needy. A.k.a. you'll never be able to give them "enough" and they won't suddenly become supportive when you find yourself in a needy place. So be honest, we all get needy at times, this is normal and healthy, chronic neediness however is not. What is really going on?
Closing Thought
There's a great scene in the movie La Vita e Bella:
Eliseo Orefice (played by Giustino Durano) to his nephew Guido Orefice (played by Roberto Benigni)
Guido: (learning how to be a waiter) "How far do I bow? I suppose I can even go 180 degrees."
Eliseo: "Think of a sunflower, they bow to the sun. But if you see some that are bowed too far down, it means they're dead. You're here serving, you're not a servant. Serving is the supreme art. God is the first of servants. God serves men, but he's not a servant to men."