A reader of this article left the following question as a comment:
"What if the narcissist is one of my family members (like my dad)? I love him very much, but it's unbearable being around him. He'll pick me apart for what he sees as my problems, and even say that he loves me more than I love him. It's like he gets a rise out of putting me down and getting me to argue with him. I don't feel good being around him, but I can't imagine avoiding him for the rest of my life, he's my dad after all."
O.k. so first off, let's break this down into the bits and pieces that somehow create a felt contradiction.
My dad is a narcissist
I love my dad very much
It's unbearable to be around my dad
My dad picks me apart, blames me, yet says he loves me more than I love him
It seems my dad gets a rise out of putting me down
I don't feel good being around my dad
I can't avoid my dad the rest of my life, because he is my dad.
I understand that this feels like a very unique situation, a situation very unlike being in a romantic relationship with a narcissist. After all, you can't break up with your dad and go out to a dad-cafe to meet a new dad to bond with (Strictly speaking though, you can actually bond with someone else who takes on a fatherly role in your life, it's just that "officially" this person will never be your dad).
Yet, just imagine what it's like for someone who is married to a narcissist. Surely, they could make a very similar argument (and trust me, many people in that situation do): "My partner doesn't treat me very well, I don't feel good being around him, but I love him, and… he's my partner of X years, so I can't just leave him."
If a friend told you a similar story, of being in relationship with someone who made them feel like crap, but not wanting to leave, and saying they loved this person, what would your reaction be?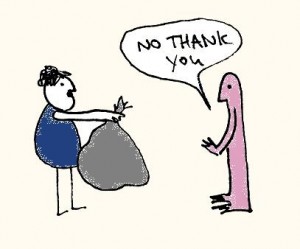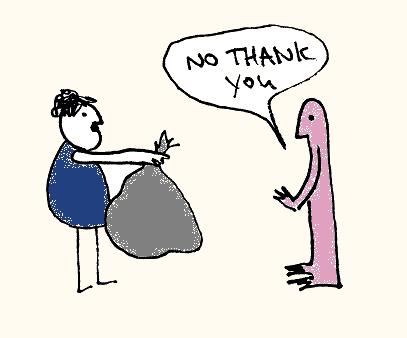 You've established your dad is a narcissist. That makes sense of the fact that he claims to love you very much (oh, pardon me, he loves you more than you do, because of course, it needs to be a competition in which he is the winner!). He picks you apart, critcizes you and makes you feel bad to the point where you don't feel good being around him. He gets a rise out of putting you down and getting into arguments with you. Yep, sounds like narcissistic behaviour. So, that part is clear then.
If it's still unclear somehow, try confronting him about it, tell him how it makes you feel. If he does care, he won't blame you for being honest and he'll want to know how he can make things better, but if he's a narcissist, he won't accept any responsibility for his behaviour and just criticise you instead. It's not a full litmus-test, but in light of the other things you've established, this would be the final "intervention" worth trying.
Now for the unclear part:
"It's unbearable to be around my dad AND I love him".
Ahem, do you generally love things, people, places that make you feel like crap? Really? Is that how your heart works? Or does it work like hearts generally do: loving that which makes you feel in alignment with who you really are? Is your heart really the exception? Loving someone who isn't good to you?
"But he is my dad." Yes he is. The only official dad you'll ever have. Yet, just because he is your dad, doesn't mean he is a very loving dad. There is no rule that says he must be. We expect it, for sure. People say things like this all the time: "your family loves you" [by default] as if there is something in the definition of family that implies love.
Similarly, just because he is your dad, doesn't oblige you to love him. Sure, there is that societal expectation too. Yet, our heart doesn't really let our brain terrorize it, not really.
The mind might be following a rule: "he's my dad, I'm supposed to love him, so I love him". 

Your mind might also be trying to cover up a fear: "what if I don't love him, what then?". 

Or, your mind may simply be confused. You feel crap around him, and people (including your dad) tell you that he loves you. So, conceptually, your understanding of what love feels like may have become skewed: "my dad loves me, so the way I feel around him is love". You might not really have an alternative reference frame and so your dad may have "taught" you what love is, and how it feels. Except, it's not really love. (These are just some possibilities by the way)
Another possibility is that you can kind of see beyond his personality, into his soul, into his potential. And you've found a spark there, something beautiful. And now when you think of loving your dad, you're thinking about that spark, but you're kind of ignoring what he's like in every day life. If this is the case then you could say: I love my dad's deeper potential, but I don't love the way he treats me, and I don't love the way he is as a person. Know that, you can love his potential from afar.
Of course, there's the "what will other people think" factor and there is also the "I don't want to deal with this" factor. Of course you, don't! Who would?!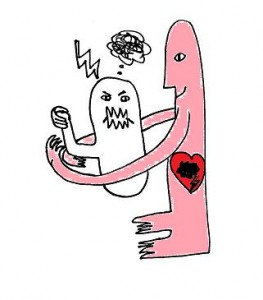 Only you can decide what to do. Yet, do allow for the possibility that you don't love him as much or as completely as you believe you do. Open up to the possibility that you may have some very strong, and perhaps strongly repressed other feelings towards him too.
Let the true, complete and messy package of all your feelings, experience and knowledge guide you on what to do (or not do) in this situation. And be sure to connect with your heart and ask what you need to know about the situation, and also, what you need in all this.
Our mind tends to try and simplify difficult situations by going into either/or mode. From there, we can waste a lot of time trying to figure out what the real answer is. Is it A or B, or a, or b, or perhaps a after all? Yet, more often than not, it's something along the lines of ABABABCCFY. Which is why, our mind is incapable of coming up with a way forward. This is why we need our heart. Our heart is designed to cut through the chaos and connect us to the deeper, and more complete picture.
For more factors that may be involved, also take a look at this article.