I've had a real struggle with anger. For the longest time, I couldn't really be angry. I didn't know what it felt like to be truly angry.
Some people told me this was because I was a vegetarian (at the time). That "eating meat makes you angry"…or something like that.
Some people said it was because I was just "a very nice person".
Some people said other things that were even sillier.
So, for a long time, strangers kept complimenting me on my utter lack of anger. Meanwhile I got by pretending to be angry whenever it seemed necessary to show some anger. Yet, I couldn't really feel any anger (and that makes for lousy boundary-setting, I can tell you!).
---
Do you struggle with anger? Keep it in and then blow up? Never feel it? Fear other people's anger?
The What to do with Anger Class has step-by-step processes to deal with anger in a healthy way. It's in the Library.
---
I knew, that deep deep down, there had to be anger in me, somewhere. Yet, like a lot of women, it was MUCH easier for me to feel grief, than it was to feel anger. For a lot of people, "being a woman" pretty much equals not getting angry, right? Anger is a masculine thing, a power thing. When women get angry they are "crazy" or "bitches" (and when men cry they are "sissies" and "wimps") Boys don't cry, and nice girls don't swear. Enough with the gender stereotyping!
So, my anger was in hiding, and I had to seek it out. What do you do when you're tailing something? You pay attention to little signs. So I started to notice…jaw-clenching, could that be something? Balling my fists automatically? Migraines? (When did I get them, what would be going on?) I also started to pay attention to how I responded when I should be angry. How did I respond when treated badly? When people crossed the line? Which muscles were tensing, how did I feel, what did I do?
So, slowly but surely, I was starting to draw my anger out of hiding. I was letting it know "Is ok, me not angry with you for being angry, you come now" (I was feeling pretty primitive about not being in touch with something as basic as anger).
Little by little, my anger was starting to announce itself. Sometimes in huge flaming bursts, sometimes through nagging irritations. Pretty soon I was at the next step: what to do with it?
Obviously, if you're in a situation where you have every right to be pissed off, the anger becomes what it is meant to be: an energy putting something in motion. Like a little energy bubble that gets some things moving and then is out and gone, anger can be very constructive and clarifying. However, I was not at that point yet. When my anger showed, it showed WAY out of proportion. There's no way expressing that would have been beneficial.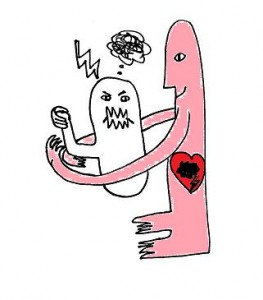 I tried kicking things, I tried screaming in a pillow, but in the end, what really helped me move forward was just to feel it, without doing anything with or to it. Without needing it to be anything other than it was.
[ Happy Sensitive Library Members – you can
access a detailed class walking you through the HOW of that here
]
It was pretty amazing actually (and still is) those moments where my anger gets triggered and I feel a huge mass of energy boiling and steaming. I'm kinda proud! 'Look at me, the "nice girl" getting al worked up, pissed off and…getting good at it!'
Ooooh, did I say something spiritually outrageous? As in "Real Guru's Don't Glare? -And-We-Need-To-Be-Like -Them"? ..Perhaps…
It al depends on the 'how' though. Stored anger will eat away at you. When you are explosive or feel explosive, there tend to be deeper seated issues that need to be dealt with. It has nothing to do with anger being a good or bad thing. Anger is just anger, and as long as it can move through and out there is nothing amiss, per se.
As an additional bonus: for many people, anger is the only boundary-setting thing that will work. You can tell them once, twice, a million times nicely…get angry once and they'll suddenly "get it". (You don't want to smash their head in like…just you know, glare a little while telling them politely)
---
How do you handle anger in a way that doesn't make you explode inappropriately, but also doesn't make you implode over time? Discover this and more in the Library.
In the What to do with Anger Class you'll learn new techniques for handling anger, and we'll dive a little into the origins of "dysfunctional anger" so you can better understand why anger can be such a very real struggle. 
---
Oh, and if you need some anger inspiration, be sure to watch these!