The H in HSP stands for "Highly".
It should stand for Happy (don't you agree, or at least wish that were true?)
You're not too sensitive.
You may be observant of things that others miss.
You may be touched by things that don't touch others.
You may be different from people around you, but that doesn't make you "too". It makes you just right for being you.
You're not too emotional.
You have (lots of) emotions and you may have been taught to suppress them to "be normal" but that just leads to suppressing your own energy and lust for life.
You may have tried living in your head to be more logical. Did you know that your emotions are important messengers, a part of your own intuitive system? When we haven't been taught how to decipher them then we can get overwhelmed and feel thrown about by them, but they really are there to help you!
You have the intuitive capacity to choose and know exactly what is right for you. So why is there so much misery surrounding discussions of sensitivity online?
Well, because since you're designed to be attuned to what makes you happy, you will also suffer deeply when that attunement is out of whack somehow: when deep down you know what would make you happy but you've been conditioned to not pick that, to fear it, ridicule it, avoid it, postpone it or just not know how to make it happen…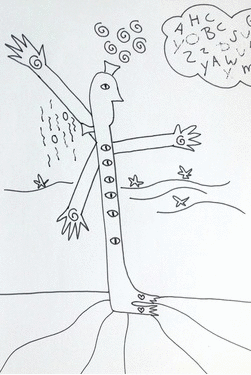 Or because try as you might you can't decipher what your intuition is trying to tell you!
Our HSP intuition is sophisticated with lots of subtle signs, lots of buttons and no manual!
It's trying to give you a detailed map of where to go… but using that map requires being able to read it first.
What's more, your inner HSP intuitive navigation system is unique. To figure out what it's trying to tell you, you need to learn your own language of sensitivity.
When you do, baffling physical symptoms, feeling "wrong" and insecure about who you are, anxiety, overwhelm… they can all melt away.
Being deeply connected to and familiar with your own language of sensitivity makes all the difference.
It allows you to trust yourself – not by throwing yourself off a cliff, but by knowing deep in your bones what is right and true for you and how your body is trying to tell you about that.
It helps you stand up for yourself, make difficult decisions, have difficult conversations and follow your (realistic) dreams.
It also lets you laugh more, feel better, have more vitality, more loving relationships and the time for yourself that you need.
A lot of HSPs are struggling against the world (and lamenting that the world is "too insensitive") because they are out of touch with their own language of sensitivity. As a result, their life is overwhelming, exhausting and full of trying to live life the way they think they "should" instead of how they were meant to.
Don't let those people convince you that that's what it "means" to be a Highly Sensitive Person. It doesn't. You don't have to live your life that way.
Sign up to Learn more abour your Language of Sensitivity.
You get the Language of Sensitivity Storybook (PDF) and 7 emails delivered to your inbox over the coming 2 weeks.
Or, Skip That…
Jump straight ahead to setting up a Clarity Call with me. Let me shed some intuitive light on why things are the way they are and what you can do about it.
{ Comments on this entry are closed }