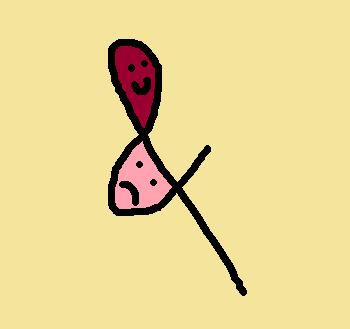 If you struggle with over-giving, or often get duped because you tend to only notice the good in people, then you'll want to start practicing the AND strategy.
The AND strategy asks us to be open to allowing opposites, or conflicting observations to be present at once. It defies the totalitarian logic of rational thinking and attunes us to all of who we are and all of our senses for a pluralistic and more complete view of the world.
Rationally, we like things to be clear cut, either or. While we rationally do know that we are always dealing with a grayscale of phenomena, we still tend to look for a definitive conclusion: it's either this or that. Such kind of thinking can cause us to overlook important aspects of any situation. Pessimists only see what is wrong, optimists only see what is right. Yet, a balanced perspective would include information from both sides.
Getting to a point of balanced observation is really quite simple once you accept a simple premise: it's ok to hold conflicting viewpoints. Yes, you can be both happy and sad, understanding and angry, prejudiced and open-minded. You can be all these things at once because as a human being, you don't have a single "focus". You have thoughts AND feelings. You have conflicting interests and loyalties. You have different levels of understanding. Yes, maybe someone is doing the best they can AND they are hurting your feelings. Maybe a particular situation is both inspirational AND terrifying.
Too often, we dismiss something that we notice or feel, because it is inconsistent with a more dominant perspective or particular idea of what we're "supposed" to see. Essentially, this is bad research skills. Just because you've created a reasonable model of what is going on in a situation ( perfect bell curve perhaps?) does not mean that all observations actually need to fit that model (a.k.a. they don't all need to be ON the bell curve).
We simplify situations to help us assess how to deal with them. Simplifying things too soon can actually make you get stuck however. Especially for HSP's, it's important to take initially confusing subtle emotional and intuitive clues into account as well. Furthermore, if you have a knack for seeing the bigger, collective picture, it's important not to dismiss your personal perspective, no matter how much the two may collide.
The more you tune into your sensitive ability to pick up on a lot of different kinds of information, the more you need to start seeing your observations as a kind of "group discussion" at best. Here's some examples.
1. Notice how something affects others AND how it affects you
2. Notice what you think about something AND how you feel about it
3. Notice how different parts of your body may respond differently to the same situation
4. Notice how what someone is saying is not necessarily congruent with what they are doing.
5. Notice how what someone is saying is not necessarily congruent with their emotional response.
6. Notice how you can have conflicting impulses inside yourself.
These "inconsistencies" are only a problem when we assume that we must figure out "which one is true". What if all are true, or at least, relevant? Your body is your state and you are the monarch. Do you want a totalitarian state, or a democracy?
We can consistently broaden our observational horizon, by starting to include the kinds of observations that we tend to "throw out" because they are inconsistent with our preferred way of seeing the world. If you always see the best in people, spend some time noticing their worst. If you see problems everywhere, start paying attention to opportunities too. Don't switch sides, add sides. There's no rules about how many sides there can be.
Will this make taking decisions more difficult? If you want to use only your brain to take the decision, then yes, it will be more difficult. The more information you have, the more confused and less effective our brains tend to be. This is why, we often take complicated decisions intuitively. Sleep on it. Journal about it. Meditate on it. Think about it and then let it go. It's worth taking more time to come to a more balanced decision.
A totalitarian state, with a rigid line of decion-making is incredibly efficient. It is also – usually- incredibly brutal.