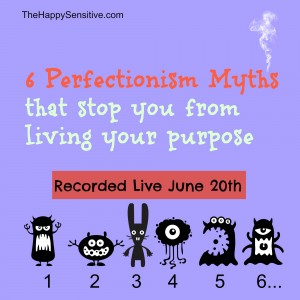 Herein lies our strength and problem: we have the ability to fine tune things (pretty much) endlessly, but this is often not realistic or possible. So how do we balance our desire for beauty and quality with the kind of practical common sense that will stop us from painfully spinning our wheels?
In the call recording below I address 6 common HSP perfectionism myths that I often hear from clients. I address why they are not true, and what to do about them.
This call was recorded live on June 20th 2015. The participants were able to submit questions and comments over chat, and so each myth has additional comments and questions, and I address those too. The audio is an hour and 13 minutes.
6 Perfectionism Myths That Stop you From Living your Purpose (and what to do about them) by Caroline Van Kimmenade on Mixcloud
If you enjoyed the call and found it helpful, and you have a project you're working on, or would like to shift your approach to your own perfectionism overall, then take a look at the Practical Perfection Programme.
For more reading on perfectionism, take a look at this article: Is perfectionism a Force for Good or an Anxious Enemy?