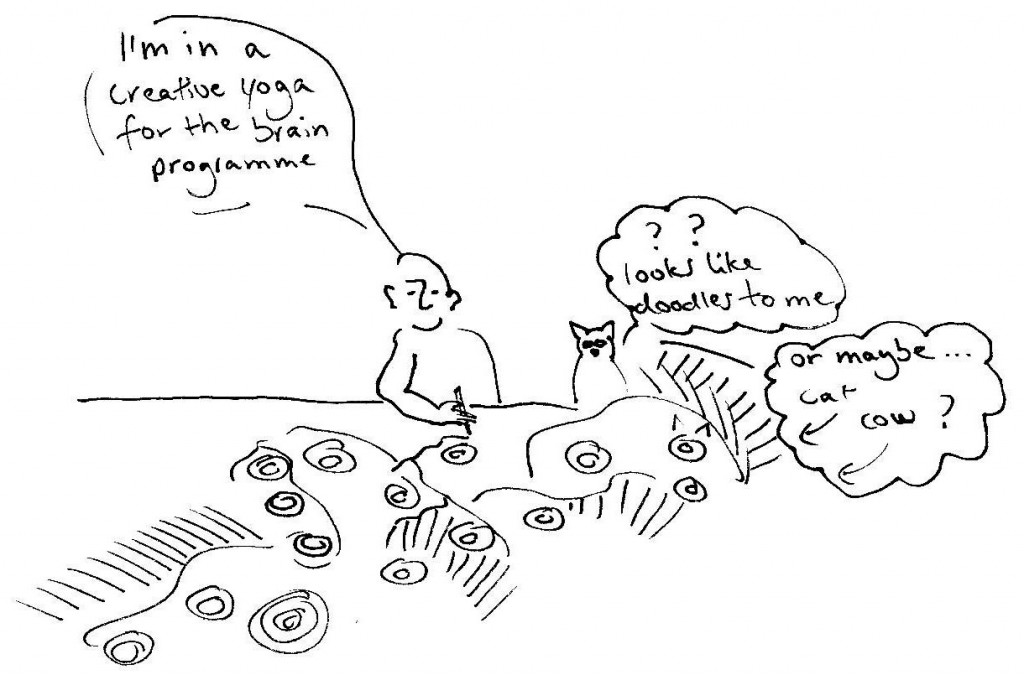 I recently came across a little printed folder advertising doodle workshops. Doodling was advertised as being "a way to be more relaxed and more present". In effect it was described as "creative yoga for the brain". You know, flexing those firing neurons and breathing deeply into the cortex. Hmmm.
Last time I checked, doodling was an obvious and unremarkable way to pass the time on the phone or in class (and you were reprimanded for it). Now, it is being TAUGHT in special classes.
Really?
Silly or savvy?
When was the last time I doodled?
I've been putting some BIG effort into reclaiming my 'blank-canvas-time', but it was tough going initially. It was almost like kicking a deeply engrained addiction. Context doesn't help either. In a go-go-go society, it's almost blasphemous to say that you're not really doing anything. Yet, such time is essential. Just like dreaming, we need time to process things and sit with the potential of all things as-of-yet-unannounced. Good things come from doodling. It kind of takes getting reaaaaaally busy to figure that out!
"Mindfull doodling" then might be the solution for those of us who both think we need to be doing something yet should actually not be doing something for a bit. Doodling workshops… ingenious really! You pay for it, you " do it together", you get instructions…so obviously, you can tell people (and your own critical inner voice) that you were (very) busy! Yet, at the hight of the activity, you were doing nothing much at all. It seems like the ultimate modern way to get away with some necessary down time.
And, in the end it all comes down to PR.
So, the next time you found the courage to stare out of the window for any length of time at nothing in particular and people are frantic to know "what you've been up to", perhaps you've been doing some interior redesigning? That is, you cleared out some brain space? Oh, and I think sitting on a park bench pretty much equals "running out to get some vitamine E"! In trying times when we have to boast of our unending activities in order to be socially mainstream enough, inactivity might very well need to go underground, and dress up strangely.
Anyway, should you want to get started right away, you can join MY online doodle group, right here, right now. Doodle away! (remember to frown while staring at the screen, that way any people passing by will assume you are busy working very hard!) Happy Doodle Day!
"time is a luxury, take the time to bathe in it"