Training for Sensitives and Empaths
I currently have 3 training programmes:
---
The HSP Comfort Kit: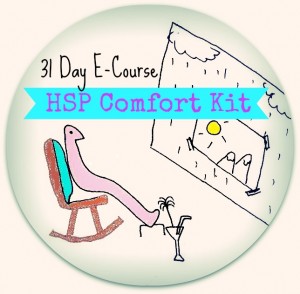 This is a 31-day low cost DIY course that encourages you to accept and honour your sensitivity. Magic happens when you stop fighting yourself by default. Read more…
"I'm glad I took the 30-day course [Comfort Kit] first – it provided me with wonderful insights and practical tips on dealing with overwhelm, and I still refer to this information regularly." ~Portland, Oregon.
"Fantastic Comfort Kit material!! Have saved the daily emails and using it again as a daily exercise during a challenging phase. The extra bonus videos & resources are like gold to refer to when needing a reminder, support and pep. Thank you so much, highly valuable resource to have at hand for an HSP, like a 1st Aid kit :)" ~Allyson, New Zealand
---
From Suffering Sponge to Sensitive Savant Empath Programme:
This programme is for you if you are deeply affected by the emotions of others (and basically everything around you) to the point where you feel other people's feelings in your own body.
"Empathising" is an understatement for what you naturally do.
You'll learn:
how to distinguish between what belongs to you and what doesn't
how to clear energy in the moment so that you feel lighter right away
how to reprogramme your subconscious so that you stop absorbing everyone's energy in the first place.
This is not a course on shielding. I'll teach you how to stay open and aware, while also experiencing the benefits of clear boundaries.   This 4-month programme starts on the first of every month (space permitting), take a look…
"When I looked back at the end of the course where I was and where I had come from, I couldn't believe how much I had achieved. The way that the course is delivered, with small digestible amounts every day, learning seems to happen through osmosis and before I knew it the key tools were already daily habits I did without even really thinking (…) On the whole I feel a lot more in control of my emotions and seem to have more free time and energy now I'm not wasting so much time processing other peoples energy." ~Australia
 
---
The No to Narcissists Programme for Highly Sensitive People
Do you inexplicably end up in toxic relationships or situations where negative, self-absorbed and (emotionally) abusive people tend to flock to you? Is it more than a one-time occurrence and do you want to know what you can do to break this painful pattern of attraction?
The No to Narcissists Programme for HSPs is for you if you really want to be in a loving supportive environment, but somehow you keep ending up with mean people. (There's a reason why, and it's something you can learn how to change!)

---
Not sure what would be a fit for you?
Overall, the HSP Comfort Kit is a great place to start (unless you're already an accomplished self-care ninja or advanced energy healer.)
Don't think that's quite it or are you feeling overwhelmed by all the options? Let me help you figure out what would help you most, and give you some clarity and tips to get started with. You can set up a Clarity Call with me here.
---
Curious about what other people are saying about working with me?
Read Testimonials